How do you know when a novel isn't working?
Genuine question here. How do you know when a novel you're writing just isn't working and, relatedly, how do you know whether it's time to give up entirely?
Let me back up a second.
You may remember a few weeks ago I finally (finally!) finished writing a novel from beginning to end and got it to a state where it's fit to be seen by other humans. About two weeks ago I sent that manuscript off to a few beta readers for feedback and I figured, while I was waiting, I might as well start working on something else. The only question was...what should I focus on? Should I reach for the shiny new idea (of which I have several percolating away in the back of my brain) or should I return to a previously abandoned novel attempt and try to see that through to the finish line.
I chose the latter option.
I have two abandoned novels that, for one reason or another, I never got around to finishing (long story short, a combo of being a longtime Discovery Writer or "Pantser", a severe lack of confidence, and increasingly busy full-time jobs worked together to create the perfect creative storm).
One novel was a YA portal fantasy that I thought I had abandoned at the halfway mark but turns out I just wrote and rewrote the same six chapters over and over again trying out different scenarios (again, the plague of not outlining anything for years).
The other was an adult urban fantasy novel that I actually got pretty far with before running out of steam. I took a look at the most recent draft, which I had optimistically titled Draft 2 for some reason (I don't know why, both Draft 1 and Draft 2 are almost exactly the same and neither of them was complete) and found I had 48,000 words with 17 chapters fully written, two chapters half-written, and six chapters with a couple of bullet points in each. I knew how the story would begin and how it would end and I had somehow meandered my way over the years to a manuscript that was 3/4 of the way done. Seems like a no-brainer which project I should work on, right?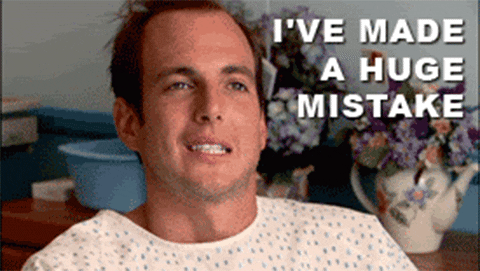 Yeah, I think it was a bad idea and here's why:
I decided my first course of action should be to transfer everything over from Google Docs to Scrivener (my current writing tool of choice). Once that was done, I started to read through everything to understand a) what I actually had, b) where the gaps were, and c) what I would have to do to make a minimal viable draft—i.e. a draft that I could work with and improve. At first, I was pretty optimistic. I like my opening chapters a lot. I think the dialogue is pretty strong and I really do love my main characters—they've lived in my head for seven years now, how could I not?
But therein lies the problem. The roots of this story are seven years old. Seven. That means, when I started writing this book, I was 24-years-old. I'm 31 now and a LOT has happened over the years to make me a very different person. I still love a lot about the characters and the world I created, but looking over the draft now, I'm just not sure it's really working.
The more I read, the more it feels like a book written by someone else—after about three or four chapters it just doesn't sound like me anymore. Well, actually it sounds like me trying my best to write like someone else (an unholy mashup of Jim Butcher and Neil Gaiman). So there's my first problem—the voice of the book is all wrong.
By chapter seven, I realized I was mixing third-person limited and third-person omniscient perspectives in the same scenes. That my friends...is not good. Over the last almost-a-decade I've learned so much about the technical aspects of writing and I recognize how amateurish it reads to me now. To be honest, the whole book has massive structural issues that would require an extensive rewrite to make work. So that's my second problem.
My third problem is that it's obvious I had no idea as to where I wanted the story to be set because I never committed one way or another. I jump back and forth between setting the book in Toronto and setting it in a fictionalized, unnamed city. There are pros and cons to both approaches and even now I'm still not sure which would work best for this story.
There are a whole host of other problems with this book that I won't get into right now but essentially boil down to this: if I go ahead and try to finish the draft of the book in its current state it will be bad and I would only be doing it for the sake of being able to say that I finished the damn thing.
Now, an argument could be made that this isn't a bad goal in and of itself. It's good to finish things because you learn something from the process of seeing something through to the end. It's just so hard to make myself finish this when, in its current form, it's a story I no longer believe in.
There are kernels that I could salvage (the premise, the characters, a few scenes here and there) but in order for this book to work, I honestly believe I would have to go back to the drawing board and outline the whole thing from scratch. Truth be told, I don't know if I can do it right now.
Seven years is a long time and maybe any affection I hold for this story is simply a product of familiarity—like a friendship I've outgrown or a job I should have left years ago. Maybe it's time to shelve the novel for good and finally move on to something else. It's just so hard to let go.
I don't have a good way to wrap this blog post up because, honestly, I don't really have an answer for what I should do next. So I suppose I'll end with a question—have you ever abandoned a novel? If so, why?